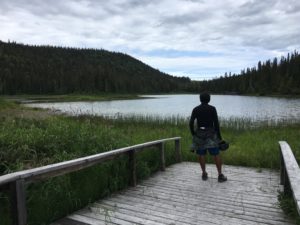 LE PROJET
Objectives
Help Quebec become a bikepacking destination
Relier les régions du nord du Saint-Laurent, ainsi que le Bas-St-Laurent et la Gaspésie sur un circuit cyclable continu, priorisant les routes non-pavées
Unveil the appeal of Quebec's national parks
Showcase Quebec's wildlife reserves as well as the zones d'exploitation contrôlées (ZEC)
Promote campground's label "Bienvenue Cyclistes!"
Highlight the beauty of our forests, lakes, rivers, mountains and hidden landscapes
Put some villages, that are otherwise outside the traditional touristic path, on the map
Highlight our regional history and culture
Make the passionate biking community participate in the elaboration of the project
Publier le Québec Bikepacking Traverse ainsi que ses Connecteurs et Raccourcis
Bikepacking doesn't replace bicycle touring. Bikepacking venture more on remote roads, less on paved roads. Like a backpacker with its backpack, the bikepackers travel with a minimal equipment discovering nature, people... and themselves.
It's not about linking A to Z, but live all the letters on the way
The route
L'itinéraire suivant n'est pas encore garanti. Il a été construit à partir d'applications de cartographie et n'a pas encore été vérifié pour sa faisabilité sur le terrain dans son entièreté. Il s'agit encore d'un projet beta. Voir la section Routes pour les sections de ce circuit et l'évolution de la vérification.
Process
LAUNCH THE PROJECT
Winter 2020. Launching of bikepacking.quebec website as well as the basic GPS segments of Québec Bikepacking Traverse
JOIN THE COMMUNITY
Winter and Spring 2020. Reach bikepacking passionates to participate to forums to improve the itinerary and prepare the verification.
VERIFY AND UPDATE
Summer 2020. Go on the roads. Verify the feasibility of the routes. Cueillir l'information sur l'état des routes, campings, attraits et prise de photos.
PUBLISH AND PROMOTE
Automne 2020 et +. Colliger l'information et la publier sur le site. Étoffer les infos pratiques. Ajouter des tronçons à l'itinéraire. Devenir la référence pour le bikepacking au Québec.