Réseau Bikepacking Québec Network
Connectors & Shortcuts
Se rendre sur le Québec Bikepacking Traverse fait aussi partie de l'aventure. Des parcours pour vous rendre des centres urbains vers le QcBT et vice versa se trouve sur cette page, ainsi que des raccourcis pour sauter certaines sections de l'itinéraire.
The network
Certains des itinéraires suivants ne sont pas encore tous garantis. Il s'agit encore d'un projet en cours d'élaboration. Cliquez sur les segments de la carte pour rejoindre les pages descriptives détaillées ou naviguez plus bas.
To go from Segment IV to Segment VI, cutting a part of Charlevoix, Manicouagan and a part of Bas-St-Laurent.
To cut the part along the St. Lawrence River and join with Segment VII in the Bas-St-Laurent mountains, to reach Gaspésie faster.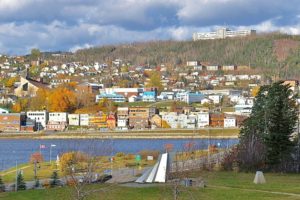 To cut the Forillon peninsula on segment VIII.
Terms of use : As with each route published on bikepacking.quebec, should you choose to cycle this route, or use any other means of transportation, do so at your own risk. The creators of bikepacking.quebec, its partners, associates, and contributors are in no way liable for personal injury, damage to personal property, or any other such situation that might happen to individuals following this route. The information found herein is a planning and inspiration resource. Despite the fact that the information on this page, as well as the associated map and GPS track (GPX and maps), were researched, prepared and published diligently, the accuracy of those informations is not guaranteed. Before leaving, check current local weather as well as roads and paths conditions and potential closures. While riding, obey all public authorities instructions and restrictions, respect private land, carry first aid, repairs and navigational equipment, respect the environment, and of course, use common sense.
Réseau Québec Bikepacking Network